At Bank Cottage Dental Practice, we believe in providing outstanding and gentle dentistry to meet the bespoke needs of all our patients. Our practice welcomes patients, whatever your concerns about the appearance or condition of your teeth or gums may be, and regardless of what previous experience you may have had.
We have a non-judgemental and supportive approach to all patients, including nervous patients or those who haven't visited the dentist for a long time.
At your new patient consultation, you and your dentist will be able to have a chat about any concerns you may have about your smile or condition of your dental health. During this conversation, your dentist will address any anxieties you may have about receiving dental treatment and together determine how you can both achieve these goals.
Your dentist will also review your medical and dental history as this can provide relevant information, such as medication or a medical condition that may impact how we approach a dental procedure. At Bank Cottage Dental Practice, your safety, comfort and overall well-being are a top priority to our dental team.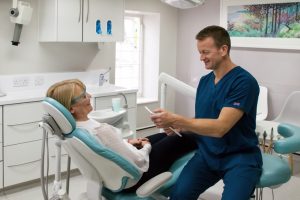 Your dentist will then perform a comprehensive dental examination of your teeth and gums which may include digital x-rays and clinical photographs of your teeth. Once your exam is complete, we will discuss the current condition of your dental health and your dentist will propose a treatment plan and an estimated cost, if you require dental work.  We will support our patients to make decisions that can impact not just on their oral health, but their overall well-being.
Patients will also be offered the option of our dental care plan to maintain their healthy mouth and help budget for their future dental care.
If achieving the best result for you includes: orthodontic treatment, dental implant surgery or another specialist procedure, your dentist can refer you to an orthodontist, an implantologist, or another specialist.  Our team will happily co-ordinate your treatment with them so you can get the dental care you need to restore your oral health.
If you are a nervous patient or experience dental phobia, your dentist can also refer you for sedation dentistry or general anaesthetic.
We believe in establishing a trusting relationship with our patients. Let us work with you to help you achieve a healthy, beautiful and confident smile and transform your perception of the dental experience.
Please click here or call 01454 412053 to book your first consultation. We look forward to helping you achieve a healthier smile!